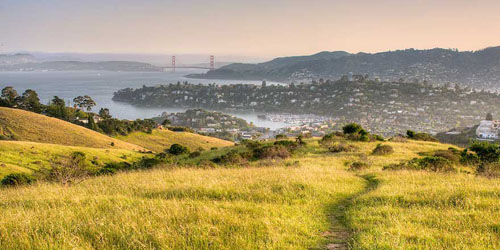 Marin County, the home of my Briana Kaleigh Mystery Series, is located on the north side of the Golden Gate Bridge from San Francisco. The county is one of the original 27 counties created in 1850 by the first California charter.
Previously, it was the home of the Coastal Miwok Indians. And supposedly, Marin is named for a chief of one such tribe who was baptized at age 20 under the man Marino.
Today, Marin County is one of the wealthiest localities in the United States housing many high-tech companies. That is why I decided to set the series in Marin. We all know money is a great motivator for crime, but I also liked the motivation of cutting edge scientific discoveries and medical breakthroughs. Everyone wants to be the first and again, there's a lot of money to be had when you are the first.
Marinites considers themselves savvier than their San Franciscan or Berkeley neighbors so there's that affluent attitude thing I get to play around with also. Briana, my main character, is from the East Coast where life moves at a more hectic pace and where manners are stronger than in laid-back California. That's why I chose a Buddhist sheriff as her foil. I contrast the male-female experience, the East Coast-West Coast attitudes, the Buddhist-Catholic ideologies, and the hectic verses laid-back personalities.