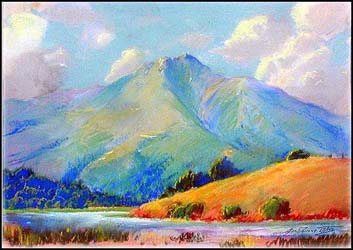 Mount Tam, as it is known locally, is the center of Marin County. Not geographically, but being the highest peak of the Marin Hills, it is like a beacon leading us Marinites home from San Francisco.
The mountain is surrounded by national park areas offering up to forty miles of publically accessible open space. Mt. Tam was create by the uplifting, and folding of the North American plate as it slides along the Pacific plate near the San Andreas Fault. Does this mean we could one day loose our beacon?
Could it crack, crumble, and fade into the pacific?
When buying a house in Marin County, the first thing the listing will say is: "Mt. Tam View." It's the real estate equivalent to fine art.
In Marin, a cold winter is defined by whether or not Mt. Tam got snow. Since it's the tallest ridge, snowfall can be seen all around, especially driving the main artery, Hwy 101, into San Francisco. Snow becomes the topic of conversation for days. Coming from the East Coast, I'm tickled to see how excited Marinites get when they wake up to snow on top of the mountain.
If visiting the Bay Area, Mount Tam should be on your must-see list. The parks offer, hiking, mountain and road biking, picnicking, horseback riding and hand-gliding. The western side descends into one of the area's most popular beaches, Stinson. Alpine Lake, Kent Lake, Bon Tempe Lake, Phoenix Lake, and Lake Lagunitas can be found and enjoyed on the north face.