The Belvedere Club – Free E-Book July 27 & 28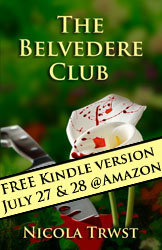 Hello All,
The Kindle version of my recently published novel, The Belvedere Club, will be free this Friday, July 27 and Saturday, July 28.
I hope this will give many of you the opportunity to discover this novel. If you don't have a Kindle, Kindle Apps are available free for all devices (phones, tablets, i-pad, mac, pc etc…) at the Amazon Store.
If you enjoy the novel, you can return the favor by taking a few minutes to write a review on Amazon. My goal is to add 50-60 new reviews.

Looking forward to hearing from you,
Nicola Trwst