Book Passage Mystery Writers Conference 2012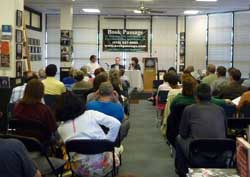 Back in the late nineties I had succumbed to a friend's insistent urging to attend a weekend long, soul-searching, rather cultist self-growth retreat in an old Hollywood auditorium where a charismatic man badgered the audience for 48 hours straight allowing no sleep and little food, but promising that each participant would reach down inside and realize their core evasion to life authenticity. Why my friend had singled me out to attend, I did not ask, but I did survived the weekend and come away with some gems.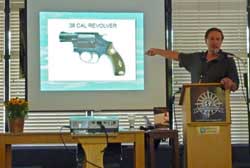 Well, the 2012 Mystery Writers Conference held at Book Passage in Corte Madera this last week comes as close to that experience as anything I can recall. Being submersed in four days worth of mystery writing and crime solving classes meant to inspire me as a writer to dig deeper if not cleave to the bone my characters, plots, and plot twists as well as my personal life experiences in search of that even better novel buried deep inside has achieved its goal.
Why was the body found in that setting, by that character? Are my senses full, adverbs omitted, suspects fleshed out, and has my protagonist found their true voice? These are some of the core authenticities I will now forever wrench my guts to seek.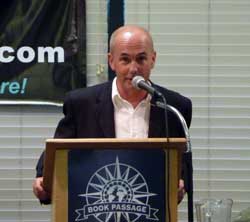 Coming away with three years worth of reading material published by past participants of the Mystery Writers Conference, my writing future shines in my mind's eye as bright as the scene from "Tugboat Annie" conference speaker David Corbett** recalled for us Saturday night. Talking on the importance of looking into your character's past to find the motivation for their actions, in this case redemption, Corbett quotes Wallace Beery line, "That's our boy out there." The line is spoken as Beery's character, after being snubbed as a worthless drunk by his son for years, throws himself into the tugboat's blazing furnace in a fearlessness risk of life to save his boy who set adrift on a stormy sea. Half the eyes in the audience actually filled with tears during the re-telling of this scene from the 1933 movie, including mine. Looking out over his audience, Corbett grabbed the podium and shook it, as if to say, "Ah, redemption!" You feel the passion the writer evoked in that scene, that's what we want.
That's our boy out there adrift on a stormy sea. Or in there, as the case may be, if the book you wish to write is still locked in your subconscious waiting to be written. And if it is, may I recommend next year's Mystery Writers Conference to be held the last weekend in July 2013.
Marie Roughan holds a Masters in English Literature with an emphasis in Creative Writing from California State University at Fullerton. Post-graduate studies in film and screenwriting at UCLA. Producer/Writer: Point Reyes Pictures, Producer: International Movie Trailer Festival. She writes novels and humorous screenplays. When not on the tennis courts, she's looking for the next laugh.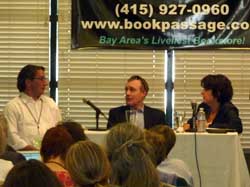 **David's Corbett's new book "The Art of Character" published by Penguin comes out in January 2013.