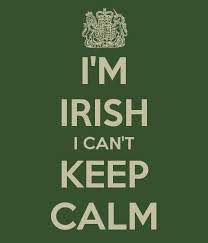 Yes, it time again for all the Irish Yoga posters to pop out; we've all seen them, but you have to love the Irish not only because they gave us Guinness and flavored potato chips. Those problem solving Irish also gave us the submarine, the tank, and the first 4-wheel drive Formula One car. Their writers—James Joyce, Jonathan Swift, Oscar Wilde, George Bernard Shaw, to name a few—have treated us to stories filled with satire, wit, and insight. In the 20th century, Irish writers won the Nobel Prize for Literature 3 times.
And who can forget Milk Chocolate? No me. It was Sir Hans Sloane who first mixed milk with cocoa.
So are you Irish? Have you ever checked your surname? Many names that are typically considered English or Scottish are Irish. The Scottish Gaels were emigrants to Scotland. The word "Scotus" being Latin for "Irishman." Some websites to check your surname at are:
www.ireland-information.com
www.behindthename.com
www.ancestry.com
Just a shout-out to my favorite Irish character, Briana Kaleigh, the protagonist of my Marin Mystery Series. Briana is the feminine version of Brian, meaning powerful. And Kaleigh being Irish for party, which is an aspect of Briana that she fights from within.
Erin go Bragh and Happy St. Patrick's Day to all.