5 Things You Need to Know About Poodles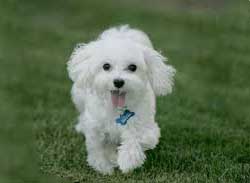 In Bolinas Bongo, Briana Kaleigh is back in Marin County for another adventure. Her best friend's high-strung poodle, Fifi, joins in the fun. After The Belvedere Club, so many people asked me why I was so mean to Fifi. I'm Not! I love Fifi, but I can't help it if my main character, Briana is more of a pet turtle person than a dog person.
For that reason, I've dedicated today's blog to Fifi.
5 Things You Need to Know About Poodles
1- Poodles didn't originate in France but in Germany where their name Poodle comes from a word which means to splash about. They were standardized in France and because of their popularity there, they became the national breed. Thus French Poodle.
2- Poodles were first used as hunters and retrievers. Because of their moisture resistant coats they make great water retrievers for hunters of duck and other water fowl.
3- About that moisture resistant coat—most dogs have a double coat of an upper layer and lower layer, but poodles have a single, water resistant coat of dense curly hair.
4- Being highly energetic, poodles get bored easily and are known to get creative about finding mischief.
5- And most surprisingly of all or maybe not if you're a poodle owner, poodles are second only to border collies in intelligence.
Number 5 always surprises Briana. Here's a video from San Rafael's Poodle Parade.
[weaver_youtube //youtu.be/E85gR40gavA sd=0 percent=100 ratio=.5625 center=1 rel=0 https=0 privacy=0 showinfo=0]