De Medici and De Medici in France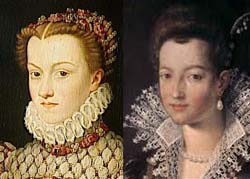 Being a fan of buff men without shirts, I recently started watching The Musketeers on BBC. (d'Artagnan looks a lot like Rafael Nadal's second cousin) In a recent episode, Marie de Medici appeared as an ex-queen of France. I wasn't sure if the writers had made a mistake and meant Catherine de Medici who was known as a ruthless mother of three French kings or was there perhaps, some type of de Medici incest rampant in French history. Anything was possible when trying to maintain a monarchy. Just ask Marie Antoinette. Oh wait, she's dead.
As it turned out, Marie de Medici married Catherine's daughter's ex-husband, Henry III of Navarre (otherwise known as Henry IV of France) after he renounced his Protestant religion (and his first wife) to switch to Catholicism. (all so he could keep the French throne-duh)
As for the incest question…what you weren't wondering?
If we go back to the head of the de Medici power and fortune—Giovanni di Bicci de Medici (1360-1429) came from humble beginnings to open his own bank, The Medici Bank, and become one of the most powerful men of Florence. He had four sons, but left the control of the bank mostly to two, Cosimo and Lorenzo. Catherine was descended from Cosimo's line and Marie from Lorenzo's. Cousins way removed, as in a century or so.
Catherine's marriage to Francis I was to unite France and Pope Leo X (a de Medici) against the Holy Roman Emperor, Maximillian, but the de Medici briefly lost power in Florence and Catherine was sent to a convent. When the dust had settled and her uncle was again in power, marriage to France's new king, Henry II (the last Valois) was seen as advantageous to Italy.
Henry II kept Catherine away from state issues, but once he was dead, she stood strongly behind her children as they ruled France. First, Francis II, then Charles IX, and finally Henry III who outlived her, but died without an heir leaving the Valois line empty. Henry III, King of Navarre and married to Catherine's daughter, Margaret, stepped up to the throne, although he was Protestant. He was the first French king from the House of Bourbon. His coronation was rejected by most of France and thus began four years of war between the Catholics and the Protestants. Then he converts, annuls his marriage to Margaret, and marries Marie de Medici—to the protests of his mistress—I should add.
So how did we get from d'Artagnan to Marie de Medici? All I can say is: Stay curious, my friends.