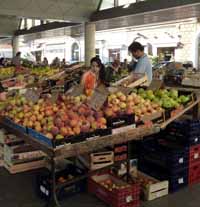 A Short Story by Nicola Trwst
© 2012- Nicola Trwst
All rights reserved
For most, the mere mention of Paris conjures up images of sensual pleasures—the City of Lights, the City of Love, the City of Haute Cuisine. On my first trip to the hedonistic capital, I sampled the lot; illuminated cityscapes from the deck of a Bateaux Mouches, snuggles with a French coworker, and oh, yes, the food. Lemon macaroons from Dalloyau, buttery croissants from the boulangerie, crispy roasted chicken from Le Suffren, Gratin Dauphinois from Chez Lipp, and profiteroles, my personal favorite, from La Coupole.
Months later still wildly in love, I convinced my endless appetite that I should live in a place where people concluded their meals with dessert, where a sweet indulgence was the norm, not the exception. So I packed my five suitcases with three sizes of clothes, (normal, PMS, and dieting), bought a roundtrip ticket to Paris (roundtrip was cheaper than one-way), and flew eleven hours to be with the man of my dreams.
Roughly nine hours after arriving in my new adoptive city, my love and I decided to commit to our relationship by doing something totally domestic—grocery shopping. Well past the "re-get-acquainted" phase and the "I've-never-been-this-happy" phase, we were on our way to becoming a couple in the most romantic city on earth.
Before leaving the apartment, my love removed a large wicker basket with leather straps from the kitchen cabinet and threw it over his shoulder. The look struck me as slightly effeminate, and was compounded when he hung his handbag over the other shoulder—a flashing neon sign for a woman from San Francisco.
Saturday shoppers crammed the sidewalk, jostling us left then right until we claimed a path, heading south towards the main shopping district.
We stopped in front of an open-air vegetable stand where various fruits and vegetables were neatly stacked into four-sided pyramids. Observing one pyramid and marveling at the perfect symmetry of form created with unsymmetrical apples, I longed to grab the center apple and watch the structure collapse, but I was afraid I might be deported.
The plums, apricots, and strawberries were smaller than the American variety, but the cucumbers were almost twice as large. Why was that? And the lettuce. Bins and bins of different sizes, textures, colors, and shades. It looked like someone had weeded a garden, a very large garden. But not a single head of iceberg, anywhere.
I reached for an avocado, but my love gently took my hand.
"Do not touch," he said as if to a child in a crystal shop who should know better.
"How do you know if it's fresh, if you don't squeeze it?"
He looked at me with that quizzical look I'd come to learn meant I was speaking Swahili again.
I pumped my fingers for effect. "You must touch to know if it is good."
My love nodded, "He will do it."
A lanky Frenchman in a blue cotton jacket and lamb chop sideburns suddenly appeared behind the bin and spoke to me like I had a clue of what he was saying. I pointed, while my love translated the quantity in French. As he bagged the avocados, we inched along the wooden crates towards the fruit. Holding up a pear for my inspection, the clerk smiled. I returned the most skeptical American scowl I could muster. Stupid American, I could hear him thinking as he loaded the bags, probably with fruit that should have been thrown out a week earlier. But he was good at it, because almost every piece I saw him pick were pieces that I'd have chosen.
Loaded with three plastic bags of two types of lettuce, Roma tomatoes, avocados, potatoes, pears, apples, and apricots, we squeezed through the other shoppers and once again found ourselves under the sun. At this point my love dropped the wicker basked from his shoulder and shoved the three bags inside.
"More to go," he said, slinging the basket back on his shoulder.
I saw the practicality at once. We already had three fairly heavy bags to lug and we'd only bought fruits and vegetables. At the current rate, we'd have fifteen bags to hoist up six flights of stairs. Maybe we could rent a crane. I'd seen one loading a sofa into a fifth floor window.
Next door six rabbit carcasses hung, bloody and skinless, in a front window above headless, featherless fowl arranged by size. Although the boucherie, the butcher, opened onto the sidewalk, the odor of rotting beef didn't smack us until we stepped inside. The smell permeated every crack, every crevice, of the yellow painted walls, the red tiled floor, even the glass counters that protected slabs of meat from the viewing public. Larger thighs and racks of ribs hung suspended on metal hooks over a two-inch butcher-block countertop bearing the scars of countless knives. Here four butchers stood cutting, chopping, and filleting orders in rapid succession.
The surface of the meat looked dull and dried and I longed for the pristine cellophaned T-Bone steaks of Safeway. The butcher across from us wiped his bloody hands on an already bloody apron and snatched a chunk of beef from a hook. To my relief, he sliced off the dried sections, tossing them into a wide metal bowl. Using the blade of his knife, he motioned off which morsel he plan to cut and the woman before us nodded and squeaked. With ease, he made the cut, dropped the meat onto a wax paper coated scale, and then bundled the sliced in fresh white paper, tying it off with a white string. And it was our turn.
Nothing looked familiar so I fell back on the tried-and-true method. I pointed.
"Gigot," my love asked with raised eyebrows. Then seeing I didn't understand, he made an animal noise. "Bah, bah, bah."
"Lamb? No, no lamb. Roast." I had no idea how to say round roast in French. I had no idea how to say French in French. I did know how to say "ou sont les toilettes?" and "par avion."
"Roast Beef?" the butcher asked. Now, he was pointing.
"Yes. Oui." Another word. I nodded for emphasis, figuring roast beef was roast beef. Right about this time, the stench started getting to me and I tried not to think about all the blood and dead animals draped around me, which of course, was all I could now think about. But what blew me over the top was when a butcher to my right sliced into a large black sausage and a deep red liquid pooled on the cutting block. I grabbed my mouth in one hand and dashed for sidewalk. Miraculously, the crowd parted for my dramatic escape.
Outside, I marched back and forth, taking deep breaths of carbon monoxide as the cars were bumper-to-bumper in the one-way street. With horns blaring all around me and motorcycles jumping the sidewalk to avoid the traffic jam, I wondered if I would ever eat red meat again. I couldn't close my eyes because when I did, all I saw was crimson animal parts. This was just as well because with my eyes closed, I wouldn't be able to dodge the motorcycles zooming through the crowd. My love pushed towards me, carrying a single plastic bag and wearing a grin the size of a metro train.
"Shut up," I said, taking the bag from him. If I couldn't eat it, at least, I could carry it.
Turning away and taking a few steps south, I found myself in front of a second meat shop. Over the entrance was a large plastic horse's head mounted in a poorly fashioned horseshoe. The window was meatless, but a glass case below displayed different cuts, bold pink in color.
"A boucherie chevaline." My love pointed to the horse over the entrance.
It took me a moment to understand. "Horsemeat?"
Giving me the Swahili look again, he then grabbed a set of imaginary reins and bounced in an imaginary saddle.
Horsemeat. The French ate horsemeat. Mr. Ed, Flicka, Black Velvet. The man of my dreams ate horsemeat. The end of a beautiful relationship loomed. Growing up in horse country, I'd ridden most of my life. Some of my favorite people were horses.
Neanderthals. How could they roast such a noble creature? Barbarians. Suddenly glad for my roundtrip plane ticket, I followed my love to the corner, silently fuming. While waiting for the stoplight to change I asked, "What does horsemeat taste like?" The tone of my voice carried its own meaning.
"I don't know."
"You don't know?"
"I don't ate it. Bak. Not many people, anymore." He scrunched up his Roman nose and shook his head as if I should have known.