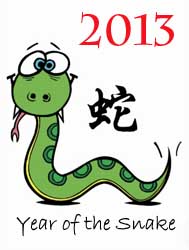 Uck. Slippery snakes. Eweeee. I hear you.
Snakes aren't sexy unless you're born under the Chinese sign of the snake. Then you might be very, very sexy. Let's not forget the snake is the universal symbol of sexuality.
We think of snake charmers, but Snakes were known as the seducers long before we tried to charm them. Their relaxed dignity coupled with their exceptional physical beauty makes them very seductive and maybe a little narcissistic. The fact that Snakes also like the limelight has generated many snake entertainers such as: Aretha Franklin, Bob Dylan, Chubby Checker, Audrey Hepburn, Muhammad Ali, Kim Basinger, Oprah Winfrey, Brooke Shields, Brad Pitt, Robert Downey Jr., Ludacris, John Mayer, Chris Martin, Sarah Michelle Geller, Taylor Swift, and Daniel Radcliffe.
In a good mood, Snakes can be fun-loving, charitable, sympathetic, intuitive, diplomatic, and sexy. In a bad mood, they can be self-righteous, judgmental, pessimistic, conniving, clinging, fickle, and haughty.
And let's not forget, the Chinese consider Snakes to be the best liars. It's not that they are deceptive, they just like to write their own story and sometimes that means turning the tale to their advantage, or flat out embellishing.
So what does it mean for the rest of us living in the Year of the Snake? If you're born in the Year of the Pig, you may want to play it safe this year. No major investments or travel or big changes of any kind. Tigers may want to take it slow, also. Ox and Rooster signs can relax and take advantage of prosperity.
The Year of Snake symbolizes wealth and prosperity and will move our focus towards material possessions. New homes, new cars, new TVs. The Snake is a hard worker so if you put in the effort you will reap the rewards, but Snakes don't like manipulation so for the best results, make sure your dealings are straightforward and honest.