Welcome! Find below my latest Blog entry, Novel, and Short Story.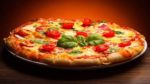 Growing up in the provincial west end of Richmond Virginia, there were many events to jar a young girl's foothold. New schools popping up yearly, good friends moving away, and always the overshadowing "family problems."
So when I tell you there was one constant that brought us all together—family, friends, teams—you might remember such a constant in your own youth. For me this constant was Italian Kitchen.
Continue reading →